Antonio Amoroso Interview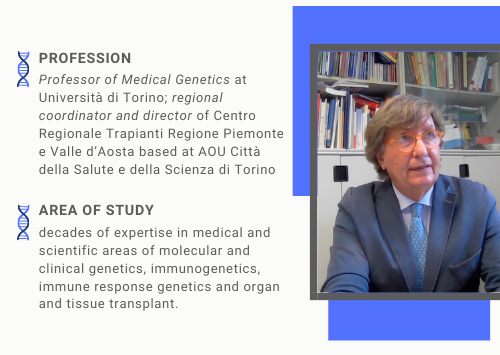 What is your role within the 5000genomi@VdA project?
The contribution that my team and I will be providing for the 5000genomi@VdA project is to promote and facilitate the transfer of genetic and genomic information from laboratories to physicians. In fact, one of the geneticist's tasks is to provide a connection between scientists and clinical staff, by means of our dual training, both in strictly "molecular" subjects and medical areas. More specifically, our genetics and medical expertise can act as a link between the phases of genomic research and data processing by means of artificial intelligence, performed by the other groups working on the project, and the correct notification of results to the healthcare specialists responsible for patients.
In addition, we also intend to collect and analyse the genome of about 500 healthy Aosta Valley inhabitants with proven local origins. This will make it possible to compare genomics variations that are found in patients with the various diseases under study against the genome of the healthy reference population. Using current genomics data for the Aosta Valley population, we will also be able to reconstruct its genetic history.
How can AOU Città della Salute e della Scienza di Torino help the 5000genomi@VdA project?
By promoting and financing the 5000genomi@VdA project, the Autonomous Region of the Aosta Valley has given the local healthcare system a great opportunity to create an innovative, high-quality service for its citizens. In this outlook, AOU Città della Salute e della Scienza di Torino can also play a role as the main partner for medical genetics and for the experience represented by the Region of Piedmont and Aosta Valley Regional Transplant Centre. In consideration of the project's notable scientific ambitions, it is fundamentally important that it comprises specialists from various subject areas, capable of interacting and cooperating on multiple levels, thus ensuring the attainment of the predetermined goals and using resources, both economic and social, to best advantage.
What are the additional benefits for patients provided by your involvement?
Our work at the Regional Transplant Centre comprises the in-depth analysis of the DNA of patients who need a transplant but who regrettably have an uncertain disease diagnosis (about 20-30% of the patients on the waiting list): in other words, when it is not possible to determine the real reasons for their organ failure. The questions of organ availability, compatibility between donor and recipient and the constant increase in the demand for transplants are amongst the obstacles that have to be faced in the medicine of the future. Our objective is to understand the major genetic reasons that could lead to a specific predisposition or susceptibility for organ failure during the course of a patient's life, so that early diagnosis is made possible, in addition to preventing the possible need for a transplant. By means of the 5000genomi@VdA project, we could be able to identify these causes. This is a fine example of how in the future, preventive and predictive medicine, supported by solid evidence and scientific studies, will have a direct impact on people's health and quality of life.
What is the impact of genetics and genomics on susceptibility with respect to transplant and organ failure? And what role do environmental factors play?
Today, transplant medicine is increasingly influenced by genetics and genomics: these subject areas are traditionally involved in the study of compatibility between donor and recipient, but, if accurately targeted, they can also provide a lot of information on the probability that a patient may have to undergo an organ transplant at some time in the future. Basically, it is the same idea of prevention that is applied to any other disease. We know that there are some genetic mutations which can themselves cause the loss of organ function (so-called monogenetic diseases), but we still have little information on a global approach that includes the whole genome. What we wish to do as part of the 5000genomi@VdA project is to obtain an overall picture of our "gene library" and define associations between genetic variants, risk factors and environmental factors in organ failure susceptibility. To achieve these results, we have to create a database, unique for each individual, which includes both the patient's "genomic ID card" and clinical data, habits and lifestyle factors.
(interview: Sept 2020)
---